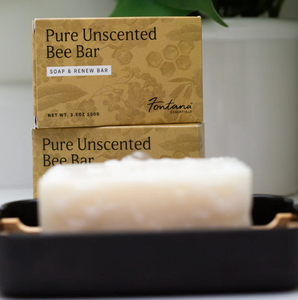 Unscented Bar Soap With Coconut Oil & Honey
Fragrance Free Soap For A Healthy Home
Living with a fragrance sensitivity can be hard. Artificial fragrance oils are found in more than just perfumes and room sprays. Soaps and bath products are another common culprit.
At Fontana, we've made it our mission to eliminate fragrance and other harmful chemicals from the home. Our unscented soap bar is a soothing, simple, and non-toxic option that is MADE SAFE® certified.

Made With Simple, Non-Toxic Ingredients
From the very beginning, we've hand selected the ingredients and suppliers for all of our products. Our fragrance free soap bars are kept simple, with every ingredient serving a purpose. The three core ingredients are coconut oil, shea butter, and honey. You can learn more about each of the ingredients below.
We used these three ingredients as the core of our unscented soap to provide a gentle cleanse that leaves skin feeling rejuvenated without drying it out or giving strong scents.
Ingredient List
Sodium Cocoate, Water, Glycerin, Coconut Acid, Sodium Chloride, Sodium Citrate, Sodium Gluconate, Butyrospermum Parkii (Shea) Butter, Cocos Nucifera (Coconut) Oil, Honey.
MADE SAFE Certified! Free of any and all toxins known or suspected to harm human health, animals, or ecosystems!
NET WT. 3.5 OZ | 100 G
Using Our Soap
There are no secrets here;  using our unscented soap is as simple as its ingredients: simply run hot water over the bar and use your hands or bath product of choice to create a lather. You can even apply the bar directly to your hands or body.

To help the bar last, invest in an all-natural agave fiber soap pouch for your shower!