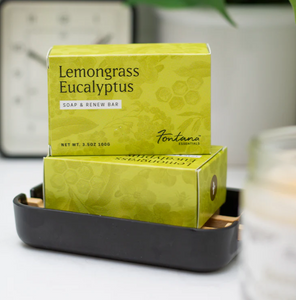 Soap & Renew with Our 100% Natural Eucalyptus Lemongrass Soap
 Our Lemongrass Eucalyptus soap can enhance your shower or bath with indulgent luxury. Enjoy the crisp and citrusy notes of lemongrass with the invigorating essence of eucalyptus.
Formulated with non-toxic essential oils, coconut oil, and shea butter, our body and hand bars gently cleanse and moisturize. It will leave you feeling pampered and revitalized, enhancing skin softness without stripping the skin. 

With their antibacterial properties, lemongrass and eucalyptus can also potentially minimize the presence of harmful bacteria on the skin. 

All of our bar soap is MADE SAFE® certified so you can bathe knowing your soap is completely free of any and all toxins that are known or suspected to harm human health, animals, or ecosystems!

Caring for your skin as well as the planet, our soap bars are packaged in environmentally conscious recyclable paper unit cartons, eliminating plastic waste.

Eucalyptus Lemongrass Bar Soap Ingredients:
Sodium Cocoate, Water, Glycerin, CYMBOPOGON FLEXUOSUS STAPF (lemongrass oil), EUCALYPTUS GLOBULUS (eucalyptus oil), Coconut Acid, Sodium Chloride, Sodium Citrate, Butyrospermum Parkii (Shea) Butter, Sodium Gluconate, Cocos Nucifera (Coconut) Oil.
MADE SAFE Certified! Free of any and all toxins known or suspected to harm human health, animals, or ecosystems!
NET WT. 3.5 OZ | 100 G
Using Our 100% Natural Bar Soap
Intended for external use only. Keep out of reach of children and away from eyes. Wet bar and work into a lather. We recommend using this product up to a year after opening.