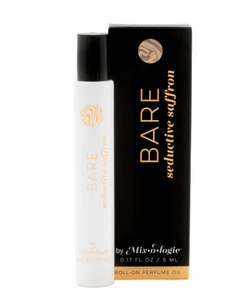 A poetic blend of warm saffron and sheer jasmine elevate ambergris mineral notes over soft amber, dry moss, and creamy sandalwood.  The heart of Bare is a dreamy blend of amberwood and fir resin, which adds depth and warmth.  Base notes of musk and cedar wood provide a lasting and sensual finish.  Ideal for those who appreciate complex and layered scents that have a memorable impact.
Rollerball Perfume Oil (5 mL)
Mixologie fragrances are made only with oils (no alcohol), so they aren't overpowering like a spray perfume can be - and they last all day.  Ideal for people who are sensitive to other fragrances.  Enjoy the convenience and portability of a rollerball perfume made only with oils.
5 mL Roll-On
Ingredients:  Dipropylene Glycol, Fragrance Oils
Alcohol-Free
Paraben-Free
Phthalate-Free
Cruelty-Free
5.27.23HB