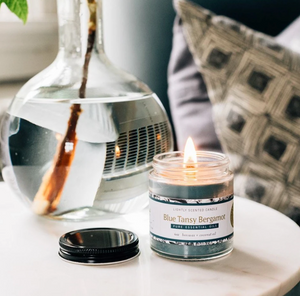 Limited Edition!
Super Premium Blue Tansy wildcrafted oil from Morocco gives this very limited edition mini candle its striking blue color. As this candle burns, the melted wax pool turns a lovely green for a visual surprise that complements its floral, citrus, and slightly minty scent.
Can't get enough of the gorgeous blue? Take the label off and enjoy every second of the view!
Blue Tansy is used in luxury skincare products around the world. Because of the design of the wick and jar, there will be 1/2" of wax left over at the bottom when the wick burns out completely. Use the remaining wax as a rejuvenating lotion, or pour it into a wax warmer to continue to enjoy.
Because this is such a limited edition scent, it has not been screened by the MADE SAFE® team.
Ingredients:
Blue Tansy oil: TANACETUM ANNUUM (steam distilled)

Bergamot Mint: MENTHA CITRATA (steam distilled)
This 4 oz Mini Jar candle has a burn time of approximately 20 hours.
Essential oil candles have a very light scent when burned. Please do not expect it to fill a room with scent.