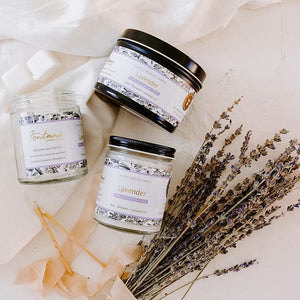 Lavender is known for its calming and balancing properties with a clean and pure aroma. This candle is made from a 100% natural blend of essential oils, making it a very subtle scent.
All sizes contain a single wooden wick that crackles when it burns. The 6 oz tin has a burn time of approximately 20-25 hours, 9 oz jar 35 to 40 hours, and the 14 oz tin 55 to 60 hours.
**The large tin is expected to be restocked by June.**
We have found that the optimal burn for our candles is achieved with a short wick. Our wicks burn best when they are trimmed to approximately 1/4." This will require you to periodically trim the wick. No special tools are needed! This can be done by snapping the burnt ends off with your fingers. If your flame gets larger than 1 ½", please extinguish the candle and allow it to cool. Once your candle cools, you can trim your wick to approximately ¼" to ½". Remove the wick trimmings before relighting your candle. Please see the About Us Page for more candle burning tips.