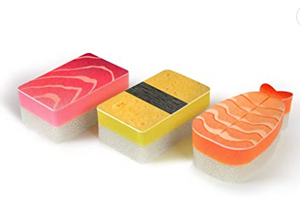 FUN & FUNCTIONAL: Doing dishes is a raw deal, so let Genuine Fred's Washabi sponges help lighten the mood, while getting your dishes rice and clean! These sushi inspired sponges will make a hilairous addition to your kitchen!

TACKLE TOUGH MESSES: Each set of 3 sponges includes a shrimp, tuna, and tamago sponge, all with high-quality multilayers that get the job done. Each one has three hard-working layers to get your dishes fresh and clean!

MULTI-PURPOSE: These multi-layered sponges make it easy to sanitize all your dishes, flatware, pots, and pans. They're also great for cleaning appliances, the bathroom, kitchen, and more!

QUALITY MATERIALS: Genuine Fred's Washabi sushi sponge set is strong, absorbant, and safe for cookware. The non-scratch scrub pads cut through messes for ultra clean dishes!

GREAT GIFT: Genuine Fred's Washabi sponge set is packed on an illustrative backer card, so it makes a charming gift as well as being suitable for everyday use. The hilarious sponges and clever visual make an exciting gift for your favorite sushi lover!
2923HBETD