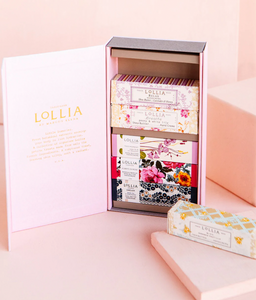 Fragrances
Always in Rose: Rose & Hibiscus
Breathe: Peony & White Lily
Dream: White Tea & Honeysuckle
Relax: Lavender & Honey
This Moment: Water Lily & Sun Blossoms
Wish: Sugared Pastille

Description 
Little Luxuries. Fresh botanical extracts envelop your body in lush hydration. A collection of signature Lollia Petite Treat Handcremes made from only the finest ingredients. A sumptuous treat, leaving skin silky, soft, and radiant.
Collection includes, in a gift box:
1 Always in Rose Petite Treat Handcreme
1 Breathe Petite Treat Handcreme
1 Dream Petite Treat Handcreme
1 Relax Petite Treat Handcreme
1 This Moment Petite Treat Handcreme
1 Wish Petite Treat Handcreme
Key Ingredients
Macadamia Seed Oil
Avocado Oil
Shea Butter
Cocoa Butter
Aloe Leaf

Design Details
Nestled in a beautiful gold-kissed box, each miniature handcreme showcases an iconic Lollia pattern.
Hand Cream Box Dimensions
4" W x 7.25" H x 1.25" D
Fill Weight
0.33 oz / 9.3 g / each