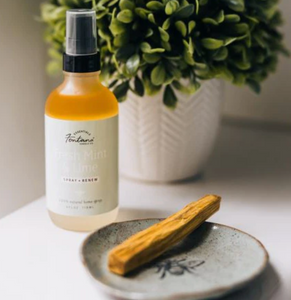 Crisp, sweet, and fresh combination of Spearmint and cold pressed Lime essential oils. This refreshing non-toxic scent is one of our best-sellers in the Spring and Summer!
Spray & Renew with our 100% natural home spray. Using our favorite ingredients that stay true to our heritage, our home spray is a fun way to fill your home with the scents you trust.
Elevate your self-care rituals by mixing and matching home sprays with your favorite Fontana Candles, wax melts, bath soaks, and essential oils.
Ingredients:
Hammamelis Virginiana (Witch Hazel), distilled water, CITRUS AURANTIFOLIA (lime), CITRUS PARADISI (grapefruit pink), CITRUS SINENSIS (sweet orange), MENTHA SPICATA (spearmint)
MADE SAFE® certified. Free of any and all toxins known or suspected to harm human health, or ecosystems!
Usage:
Spray anywhere you want your favorite Fontana scent! We recommend using 3-5 sprays for small rooms like bathrooms and closets, and spraying liberally for larger rooms for bedrooms. Test on surfaces like fabrics and delicates. 
Caution:
Intended for external use only. Use caution when using essential oil based products around pets. Do not spray directly on your pets without first asking your veterinarian.
Glass Bottle - 4 fl. oz.