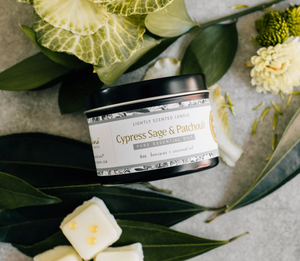 If you love bold but comforting scents, then this blend is for you! The herbaceous Cypress has a slight evergreen note that can be very grounding. In contrast, the Sage provides a bold scent that complements the deep aromas of earthy Patchouli. This could be considered the most masculine of our scents.

This scent is VERY different than our previous Patchouli blend. If you didn't care for Patchouli before, we highly recommend giving this blend a try! 
This item is currently being screened by the MADE SAFE® team for certification.
Ingredients:
Patchouli oil: POGOSTEMON CABLIN (steam distilled) Indonesia
Sage oil: SALVIA SCLAREA (steam distilled) Bulgaria 
Cypress oil: CUPRESSUS SEMPERVIREN (steam distilled) Spain
Ho Wood oil: CINNAMOMUM CAMPHORA (steam distilled) China
Essential oil candles have a very light scent when burned. Please do not expect it to fill a room with scent.